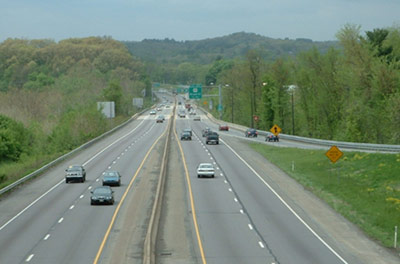 The Pennsylvania Department of Transportation (PennDOT), in cooperation with Federal Highway Administration (FHWA), is moving forward with the final design for the Interstate 80 (I-80) Reconstruction Project (SR 0080 Section 17M) in eastern Monroe County, Pennsylvania. The I-80 Reconstruction Project includes 3.5 miles of full roadway reconstruction, widening, and interchange reconfiguration. The roadway in this region serves as a major carrier of local and regional commuter traffic; local, regional, and national freight; and local and regional tourism. The project corridor serves as a gateway to the Pocono resort areas as well as the Delaware Water Gap National Recreational Area. Originally constructed in the 1960s, the roadway has suffered significant deterioration in recent years, no longer meets multiple design criteria and carries significantly higher traffic volumes than originally designed to carry.
The project corridor passes through three municipalities within Monroe County: Stroud Township to the west, the Borough of Stroudsburg and the Borough of East Stroudsburg to the east. The project limits run from just west of the Exit 303 interchange to east of Exit 306 interchange and the Brodhead Creek bridge in East Stroudsburg. The project area includes the exits 303, 304, 305, 306 and 307 interchanges. (See Figure 1)
I-80 is classified as an urban interstate and serves as a major east/west limited-access highway and through the project area, includes two lanes in each direction with a median barrier, with variable inside and outside shoulder widths. (See Existing Typical Section)
In 2009, PennDOT completed the I-80 Corridor Study which provided a broader look at the I-80 corridor project area from Exit 293 interchange (I-380) to Exit 310 interchange (Delaware Water Gap). This earlier study recommended to advance the particular segment from Exit 303 interchange (PA 611) to Exit 307 interchange (PA 611/PA 191) to further study, design and environmental clearance for construction.